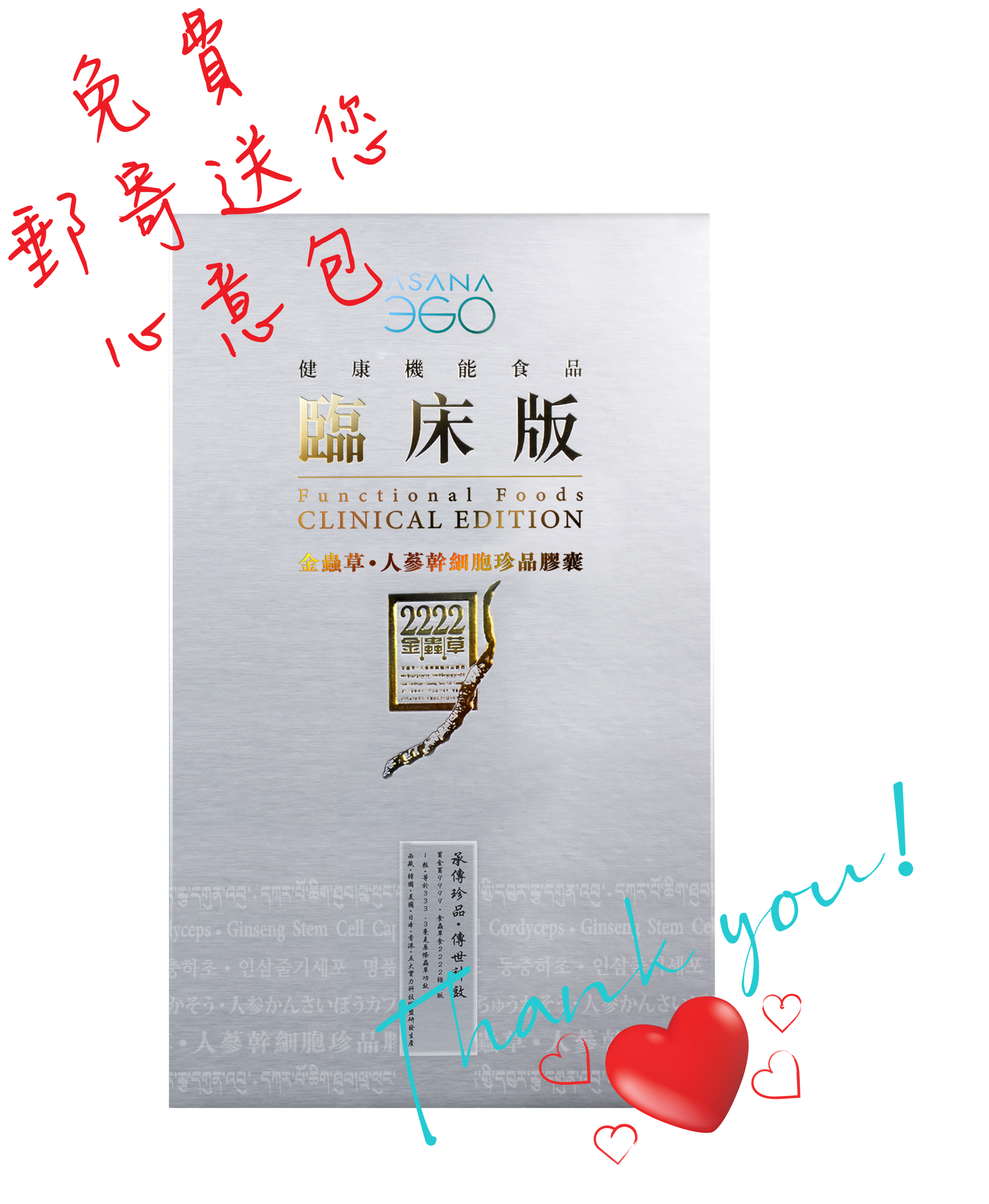 Free delivery to medical care
Golden Cordyceps Anti-epidemic Pack(3-day outfit)#
---
Thank you for protecting the health of Hong Kong people
Free from nowSend out by post 1000Fenjin Cordyceps Anti-epidemic Pack (3Japanese clothes) To the medical staff to help youImprove physical fitness, enhance resistance, and cheer for you! (Limited quantity, only one pack per person)
2222 Golden Cordyceps
Ginseng Stem Cell Health Function Food Clinical Edition
- Efficiently enhance immunity, anti-nasal allergy, and treat insomnia
- 100%Good nasal allergy symptoms, airway sensitivity*
- More expensive and more potent than the commercially available cordyceps mycelium
- Add Korean ginseng stem cells and ginsenosides to replenish the vital energy and delay aging
After registration and collection, we will have someone to confirm with you.
*Only for new member registration
#Pictures are for reference only, the gifted Golden Cordyceps Anti-epidemic Pack is for 3 days
*2013 User Test Results of "2222 Golden Cordyceps Ginseng Stem Cell Treasure Capsules"
Ten Thousand People Monument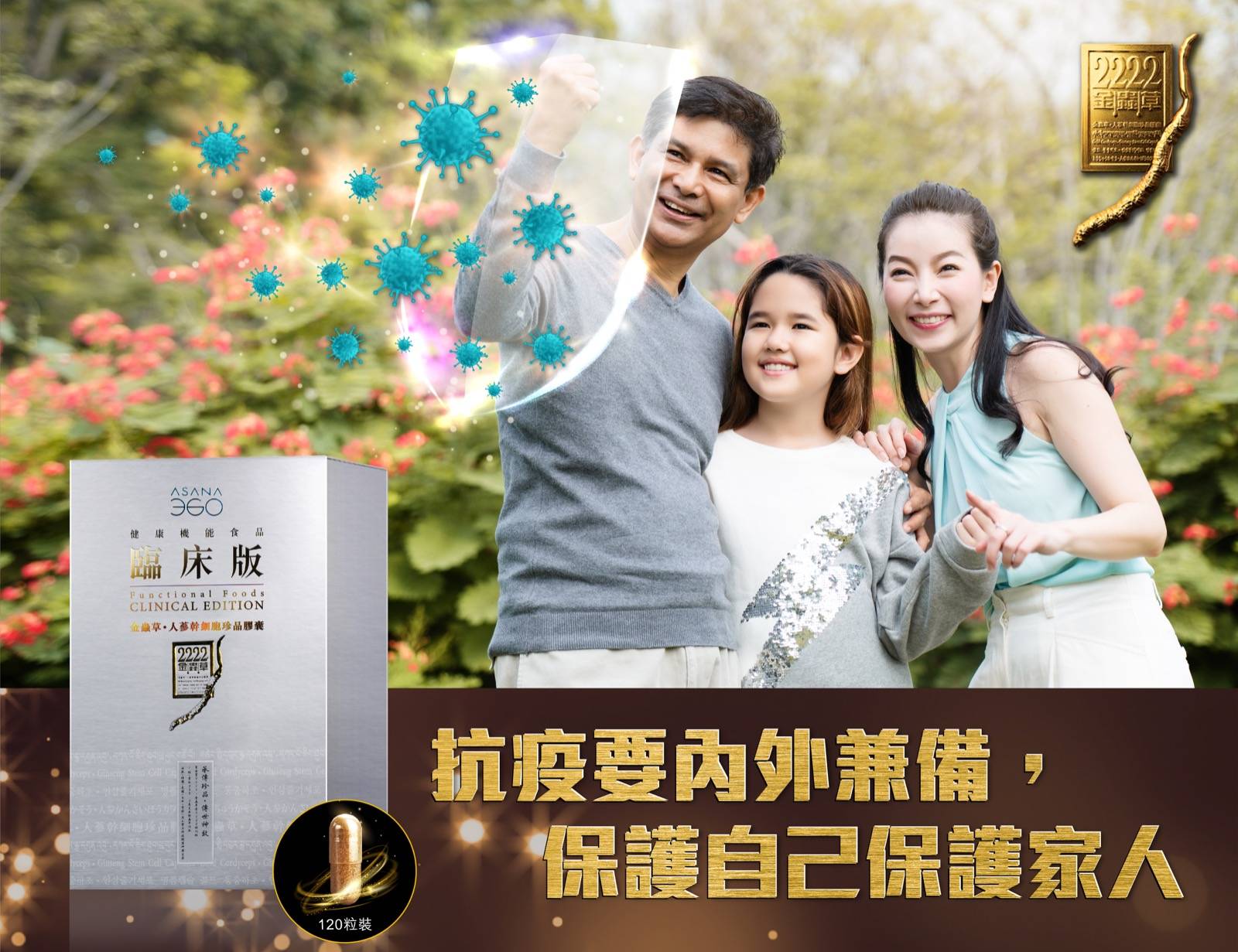 External mask + internal immunity
If you want to win this war against the epidemic, you must have both internal and external defenses!Masks can provide rational crop protection and block droplet infection; immunity is the imperial forest guard against virus invasion by the human body, making you and your family safe from poison.
Cordyceps is a health treasure containing Cordyceps polysaccharides, which can effectively improve immunity, nourish the lungs and nourish qi. The user's evidence is especially effective for respiratory discomfort, and it can relieve symptoms as soon as possible."2222 Golden Cordyceps"蘊含豐富蟲草多醣,1粒等於1支 222.2毫克蟲草功效,比市面其他CS4蟲草培植菌絲體CS4更矜貴、更加強效。《2222 金蟲草》守護您全家健康,做您的抗毒禦林軍。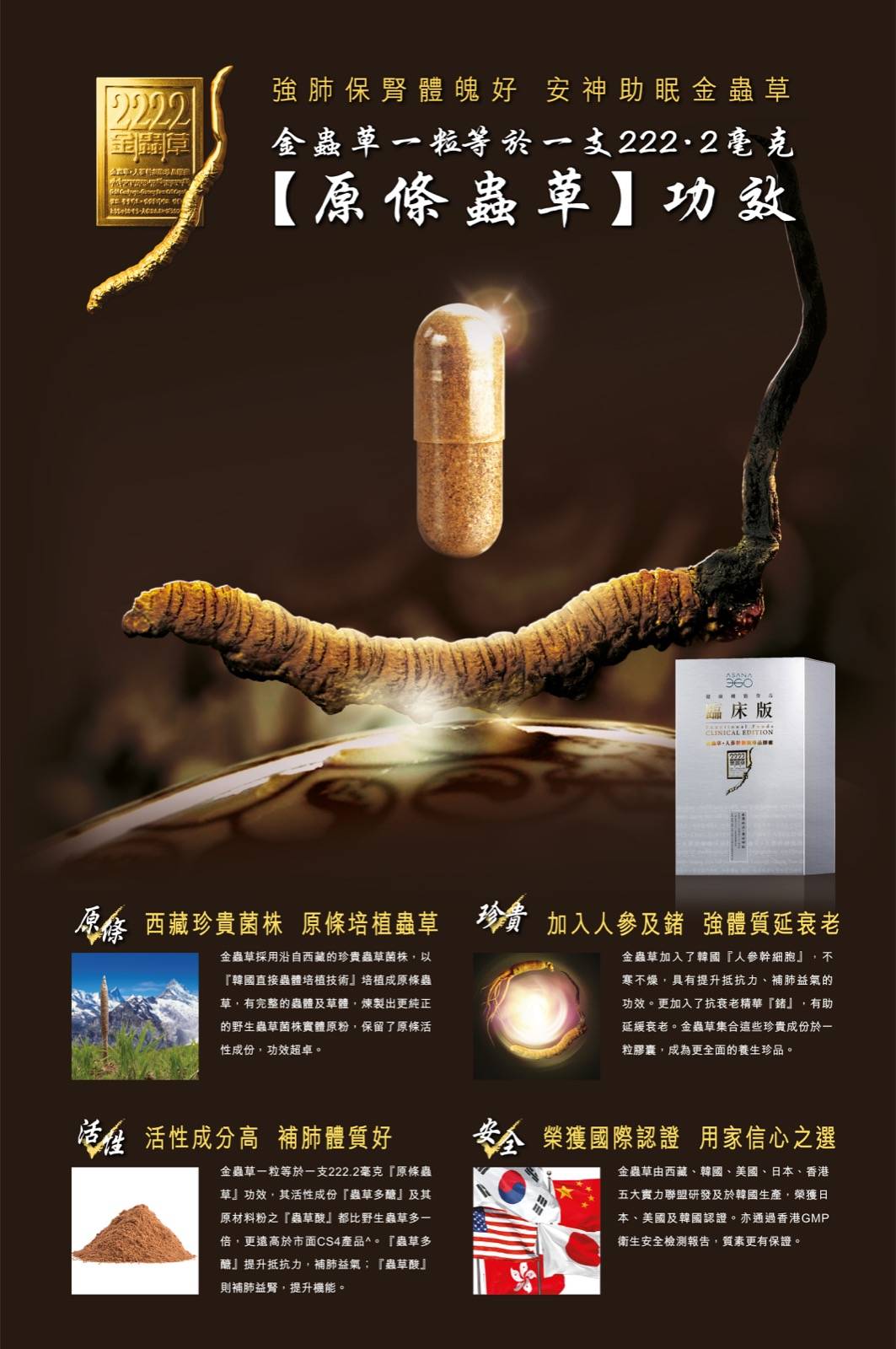 Korean Double Patent Efficacy sublimation
Korean patented "direct insect cultivation technology" original strip cultivation, retains the original cordyceps active ingredients, and is rich in cordyceps polysaccharides and cordycepic acid.Add Korean ginseng stem cells and ginsenosides to replenish the vital energy and delay aging.Combined with Cordyceps, it complements each other to sublimate health benefits.
In addition, the Korean patented "double-layer microcapsule coating technology" protects the essence powder of "2222 Golden Cordyceps" from damage by gastric acid and reaches the intestinal tract. The active ingredients can be fully absorbed to enhance the functions of the internal organs.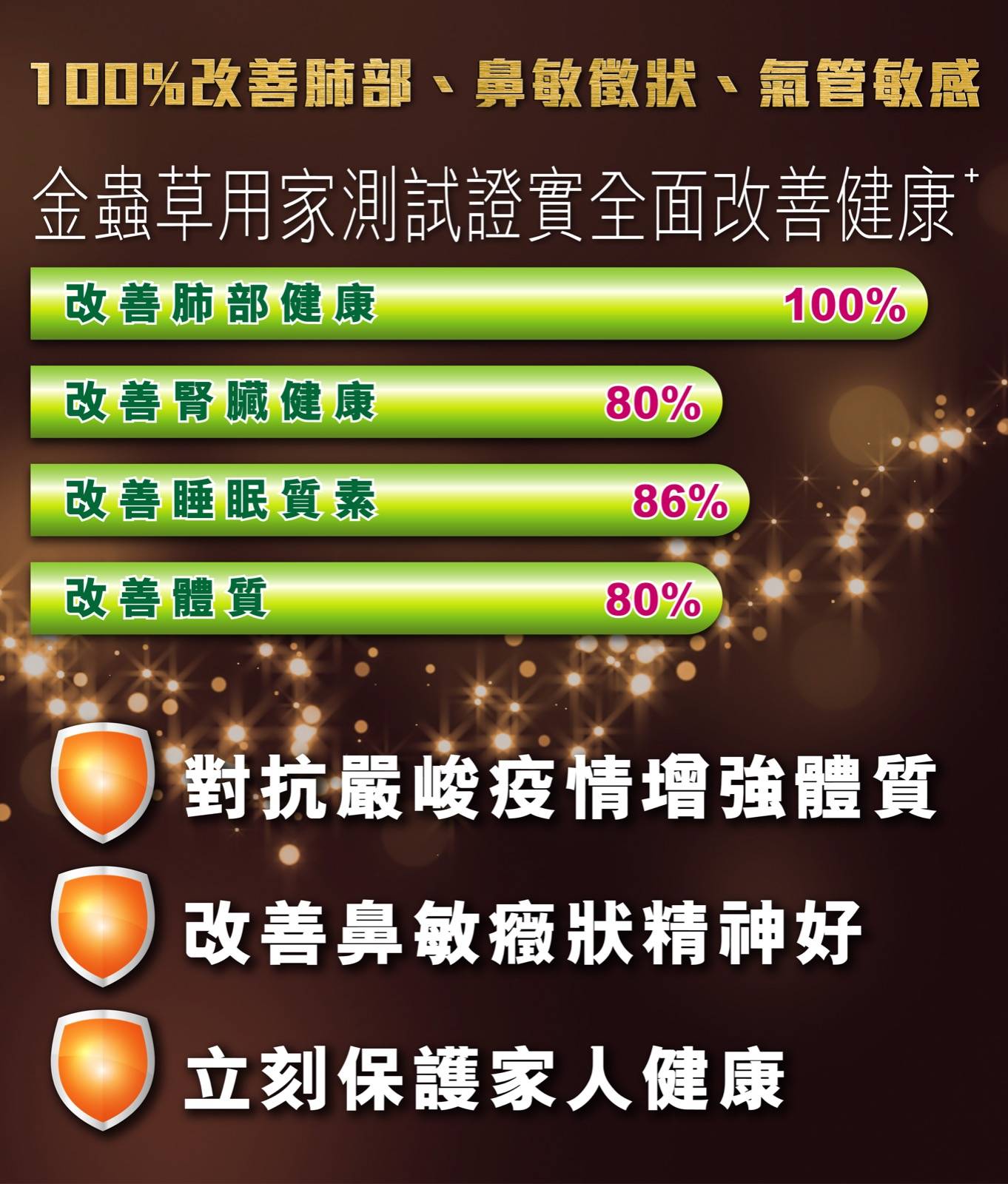 Enhance immunity, anti-nasal allergy, cure insomnia
"2222 Golden Cordyceps" is very effective in regulating the complement and deficiency of the body. Preliminary user tests have confirmed* that Golden Cordyceps improves various health problems caused by lung, kidney, qi and blood deficiency.
*2013 "2222 Golden Cordyceps Ginseng Stem Cell Treasure Capsules" user test results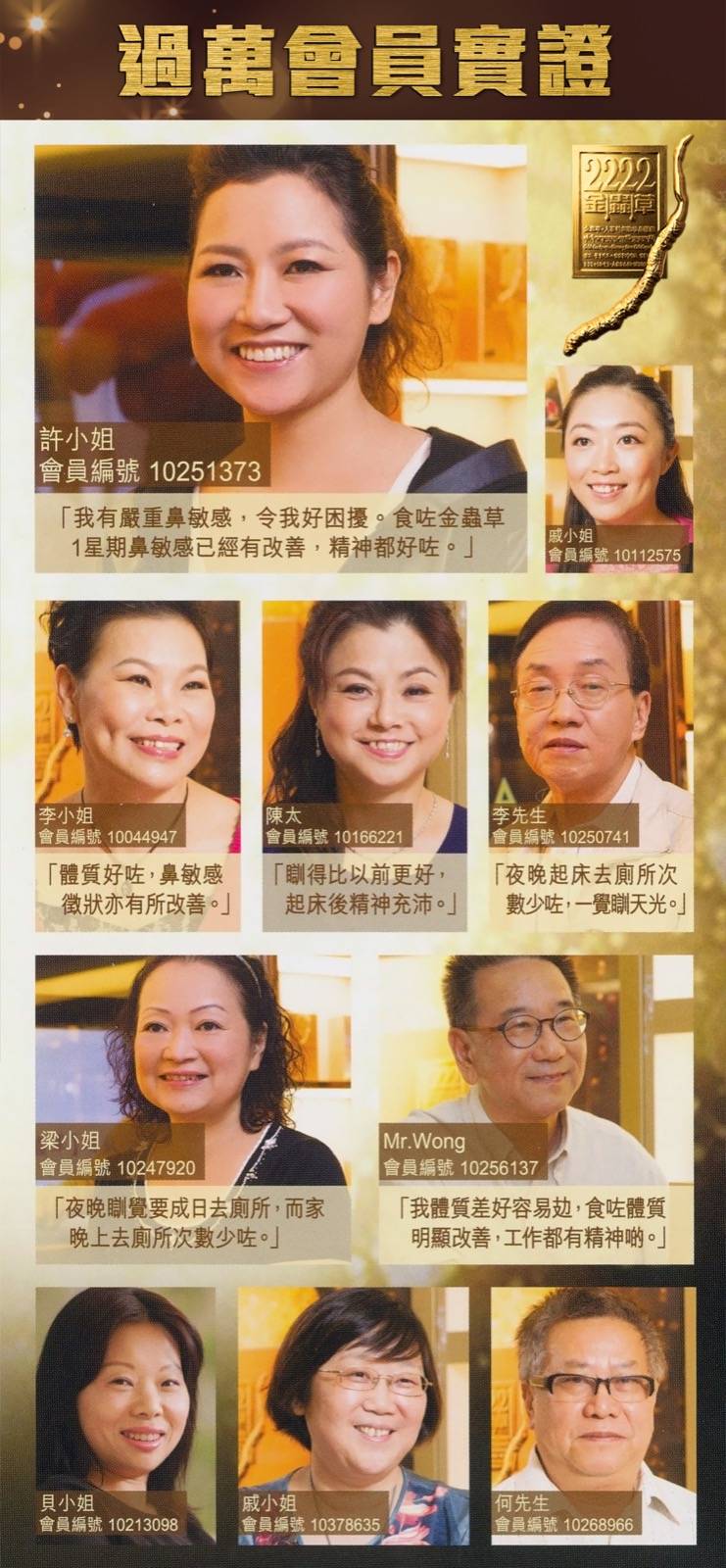 ---
Free delivery to medical care
Golden Cordyceps Anti-epidemic Pack(3-day outfit)#
The quantity is limited, while stocks last, one pack per person